Cornflakes Chivda Homemade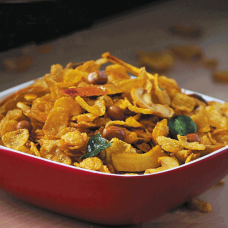 Flaky, crunchy, spiced deliciousness. That's what the Cornflakes Chivda from National Chikki, Lonavla promises. The west meets Indian cuisine with corn flakes fried to yumminess with tidbits of crackling cashews, peanuts and raisins to sweeten the deal. It's all blended with a beautiful mix of spices that will perk up your day. Goes best with a hot cuppa chai.
मकई चिवडा
Homemade , With Love !!!
Healthier , Hygienic , Made from purest ingredients
Quantity:- 500gms