ASPEE Duro Tekk Agro Sprayer 708B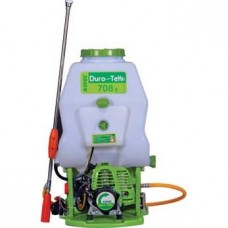 Suitable for row & ground crops like cotton, soybean, vegetables, tea & coffee plantations, orchards & tall trees.
High density polyethylene tank 20 lit. Capacity with clean out port, adjustable shoulder straps with cushion, 110cm. long high pressure delivery hose, heavy duty 3 ft. Long brass spray gun, forced air cooled 25.6cc petrol engine with reciprocating type brass metal pump & gear box.
Model: UB002B/AP
Engine Type: 2 stroke , forced air cooled petrol engine
Displacement: 25.6cc
Carburetor: Ruixing diaphragm type tuning carburetor
Ignition System: Transistorized magneto
Starting System: Easy start
Air Cleaner: Semi dry
Fuel Tank Capacity: 500ml +- 5%
Chemical Tank Capacity: 20lit. +- 5%
Pump Type: Brass positive displacement reciprocating pump (single piston double acting)
Suction / Discharge capacity at no load: 10-11lit/min
Normal Working Pressure: 100-200PSI
Maximum Pressure: 400 PSI
Weight: 8.230kg.(approx)