Conimida-Imidacloprid 17.8%SL Insecticide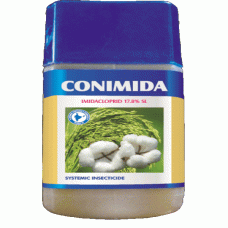 Conimida-Imidacloprid 17.8%SL : Insecticide
We are engaged in offering excellent quality Conimida (Imidacloprid 17.8% Sl) to our valuable clients.

Nomenclature:-
Common name imidacloprid (BSI, draft E-ISO); imidaclopride ((m) F-ISO)
IUPAC name 1-(6-chloro-3-pyridylmethyl)-N-nitroimidazolidin-2-ylideneamine
Chemical Abstracts name 1-[(6-chloro-3-pyridinyl)methyl]-N-nitro-2-imidazolidinimine
CAS RN [138261-41-3]; [105827-78-9] former number Development codes BAY NTN 33 893 (Bayer)

Physical Chemistry:-
Mol. wt. 255.7 M.f. C9H10ClN5O2 Form Colourless crystals, with a weak characteristic odour. M.p. 144 °C V.p. 4 ´ 10-7 mPa (20 °C); 9 ´ 10-7 mPa (25 °C) KOW logP = 0.57 (21 ºC) Henry 2 ´ 10-10 Pa m3 mol-1 (20 °C, calc.) S.g./density 1.54 (23 ºC) Solubility In water 0.61 g/l (20 ºC). In dichloromethane 55, isopropanol 1.2, toluene 0.68, n-hexane <0.1 (all in g/l, 20 ºC). Stability Stable to hydrolysis at pH 5-11.

Applications:-
Mode of action Systemic insecticide with translaminar activity and with contact and stomach action. Readily taken up by the plant and further distributed acropetally, with good root-systemic action. Uses Control of sucking insects, including rice-, leaf- and planthoppers, aphids, thrips and whitefly. Also effective against soil insects, termites and some species of biting insects, such as rice water weevil and Colorado beetle.
The product offer here is 250 ml Pack , delivered to your address .

Use for Agriculture Purpose only