Syngenta Blue Copper (Copper Oxy Cloride) 500 gm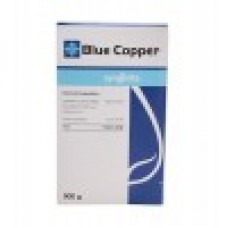 Chemical composition: Copper Oxychloride 50% WP
Dosage: 1-2 kg /Acre
Method of application: Foliar Spray
Compatibility: Compatible with most chemicals
Frequency of application: Depends on pest incidence or severity of disease.
Applicable crops: Citrus, Cardamom, Chillies, Betel Leaf, Banana, Coffee, Potato, Tobacco, Tomato, Grapes, Coconut
Extra description: Broad Spectrum Contact Fungicide used on Multiple Crops and used as soil drench
Special Remark: The information provided here is for reference only. Always refer to the product labels and accompanying leaflets for complete product details and directions for use.