Corn Flower Seed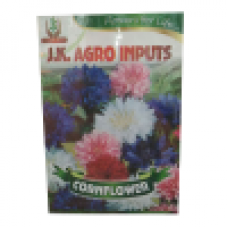 GROWING METHOD OF CORNFLOWER:
Cornflower is grown by direct seed sowing in pots.
Sowing can be done in June-July in low rainfall regions and September-October for winter flowering.
The garden soil should be well prepared and formed evenly. Soil should be aerated, porous with good drainage.
Before sowing the seeds, soil should be made slightly moist.
For beds and borders, seeds can be broadcasted directly and evenly on the soil, and extra seedlings can be thinned later.
Immediately after sowing the seeds, water carefully with a fine rose-can.


Planting Distance: 20-25 cm spacing allowed. The plant can be grown in a 10-inch pot.

Watering: Regular light watering is recommended.

Feeding: Fresh compost should be added to soil at the time of planting is given every 15 days along with vermicompost.

Plant care: It is a hardy plant that does not attract many diseases. Allow the plant to grow freely in open sunny locations.

Bloom time: The plant flowers in 3 to 3.5 months.

Deadheading: It is advisable to remove the faded for a prolonged flowering period.