Victoria Vinca Flower Seed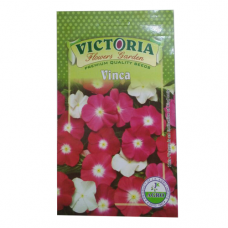 GROWING METHOD OF VINCA FLOWER:
Vinca is grown by direct seed sowing in pots, containers, and flower beds.
Seeds can be sown throughout the year.
The garden soil should be well prepared and formed evenly. Soil should be aerated, porous with good drainage.
Before sowing the seeds, soil should be made slightly moist.
Seeds are sown 0.5 cm deep and are covered with a fine layer of soil.
Immediately after sowing the seeds, a fine rose-can is used for watering.
Extra, overcrowded seedlings can be thinned out after three weeks.
Seeds can also be sown in seedling trays and transplanted after a month in pots and flower beds.

Planting Distance: The spacing recommended is 30-45 cm. Plants can be grown in planters, containers, and pots of any size above 20 cm.

Watering: Ground plants are watered once a week. Potted plants are watered every alternate day.

Feeding: Vinca plants can grow in any soil and not demanding about fertilizers and manures.

Plant care: These are hardy plants that don't catch too many diseases.

Bloom time: 1.5 to 2 months.
Regeneration: Plant is headed back every six months and replaced every second year.